Farmworker Justice celebrates its 40 year anniversary and President Bruce Goldstein's 33 years of service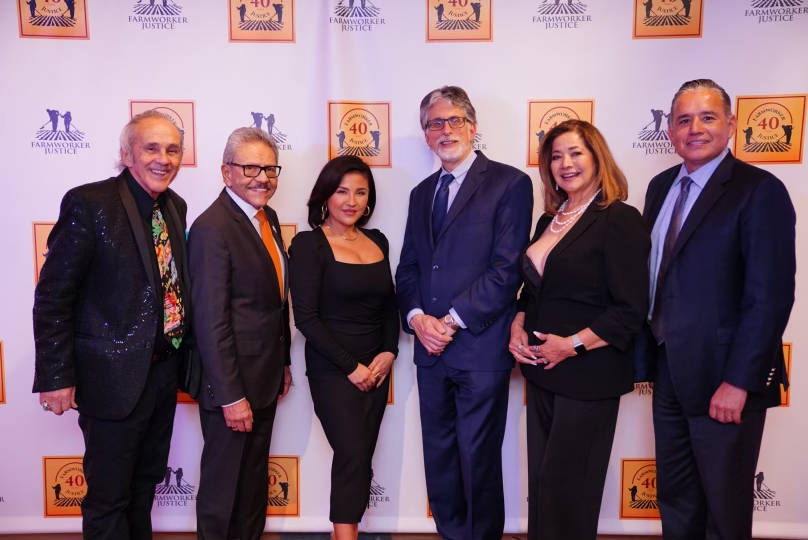 (Washington, D.C.) – The Farmworker Justice Annual D.C. Reception invited organization allies, friends, and supporters to celebrate 40 years of farmworker advocacy and empowerment on Wednesday, December 8 at the Eaton Hotel in Washington, D.C. The event also recognized Farmworker Justice President, Bruce Goldstein, who will be retiring at the end of this year after 33 years with the organization.
Since its founding in 1981, FJ has been committed to advancing the farmworker agenda by suing employers and government agencies that violate the law, pressuring legislators to ban harmful pesticides and pass job safety protections, blocking harmful immigration initiatives and advocating for positive reform, providing training and other resources to farmworkers and their organizations, educating the public, and more. The Annual Reception, hosted by Bel Hernandez, CEO and founder of Latin Heat Media, created an opportunity to acknowledge the important strides made throughout FJ's existence and to set sights on goals in the years to come. 
Bruce Goldstein began his journey with Farmworker Justice in 1988 as a staff attorney focusing on high-impact  litigation. Since then, he has worked tirelessly for farmworkers to support farmworker organizing, reform government policies, train other legal professionals, educate the public about the solutions to farmworkers' challenges, and build Farmworker Justice.  
Executive Director of La Cooperativa Campesina and FJ board member, Marco Lizarraga, remarked, "Under Bruce's leadership, Farmworker Justice has continued its longstanding role as a national leader in advocating for immigration reform legislation, improving labor and occupational safety protections, expanding access to health care, building capacity for farmworker organizations, and improving corporate responsibility in the food supply chain." The organization would not be in the position it is in today without Bruce at the helm and wishes him the best in his well-deserved retirement.
Notable speakers and guests for the evening included Annie Gonzalez, actor from Netflix's "Gentefied" and Eva Longoria Baston's upcoming film, "Flamin' Hot," and Pepe Serna from "Scarface" as well as "Flamin' Hot," who provided a dramatic reading of a poem about farmworkers. Farmworker Justice thanks them for their continued support and advocacy for farmworkers and the Latino community. Oscar Gonzales, Jr., Assistant Secretary of Agriculture for Administration, also gave remarks as the main advisor on farmworkers to Secretary Vilsack.
Another highlight of the evening included the "Children's Vaccine Song" which educates kids and their parents about the importance of the COVID-19 vaccine in protecting children, available in both Spanish and English. Through videos shown throughout the program, attendees were given an inside glimpse into FJ's challenges, accomplishments, and lessons learned since 1981 that will continue to inform future initiatives.
Farmworker Justice owes the success of the Annual D.C. Reception to all of our sponsors, who are essential to the continuation of the fight for farmworker rights and protections. Thank you, in particular, to UnidosUS for making this evening possible and for their commitment to advancing civil rights for Latinos in the United States. This event took place at the Eaton Hotel in Washington, D.C. from 6-9 p.m. EST.
While this evening may have come to a close, join us on Thursday, December 16th for our virtual 40th Anniversary celebration, streaming on Farmworker Justice social media platforms. Stay updated on FJ on Twitter at @FarmwrkerJustice and with the hashtag #HandsThatFeedUs. 
###
Farmworker Justice is a national advocacy organization for farmworkers. FJ founded in 1981 is based in Washington, D.C. and collaborates with organizations throughout the country to empower farmworkers to improve their wages, working conditions, occupational safety, health, immigration status and access to justice.  For more information visit the Farmworker Justice website at www.farmworkerjustice.org and follow on Twitter at @FarmwrkrJustice.
Media Contact: 
BA Snyder
Veritas Group for Farmworker Justice
512.630.6337
BA@TheVeritasWay.com