Environmental Justice Symposium
Farmworker Justice hosted a virtual Environmental Justice Symposium in May 2022 focused on climate change and its impact on farmworkers. Presenters and attendees discussed the health challenges affecting farmworkers impacted by climate change, heat-related illness, increased pesticide exposure and water access. Symposium materials can be found below.
Summary Report: Farmworkers and the Climate Crisis
This report summarizes the content of the Symposium and highlights promising practices and policy recommendations derived from the discussions.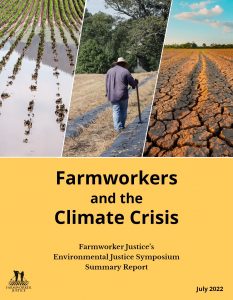 ---
Issue Brief: The Climate Crisis and Its Impacts on Farmworkers
Four-page issue brief on the impacts of the climate crisis on farmworkers in the areas of heat stress, pesticide exposure, food security, and water access.
---
Symposium Presentations
Health Challenges of Farmworkers Impacted by Climate Change
Presenter: Dr Marysel Pagan-Santana; Migrant Clinicians Network
---
Farmworkers and Heat-Related Illness
Presenter: Joan Flocks; Center for Governmental Responsibility, Levin College of Law, University of Florida
---
Pesticide Exposure and Farmworker Health
Presenter: Lihlani Nelson, Center for Agriculture and Food Systems, Vermont Law School
---
Water Access Within Farmworker Communities
Presenter: Maritza Mendoza; GreenLatinos