Our Soy Indispensable (I'm Indispensable) initiative aims to give back to the farmworkers who feed the nation. Agricultural work is one of the most dangerous occupations in this country, and the COVID-19 pandemic has only worsened the risks farmworkers face. Months into this public health emergency, many farmworkers still lack sufficient personal protective equipment (PPE) to reduce their risk of illness.
To help keep farmworkers safe, Farmworker Justice has partnered with the Auntie Sewing Squad—a wonderful group of volunteers who sew cloth face masks for those in need—to coordinate the distribution of face masks to farmworker organizations. These masks are then delivered to workers in the fields.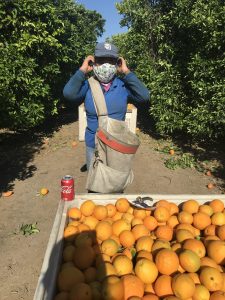 Thanks to the Aunties, the tireless Ellen Gavin, Laura Karlin, Guadalupe Cuesta and our partners California Rural Legal Assistance, Campesinos Sin Fronteras, Centro Binacional para el Desarrollo Indígena Oaxaqueño (CBDIO), Community to Community Development (C2C),  Farmworker Association of Florida, Líderes Campesinas, National Migrant and Seasonal Head Start Collaboration Office,  and Pineros y Campesinos Unidos del Noroeste (PCUN), more than 25,000 masks created by the Aunties had been distributed by December 31, 2020.
In addition, apparel company Mad Engine donated 7,200 face masks for farmworkers as part of their One Million Masks initiative. FJ, with the invaluable help of Jesus Malverde Gonzalez, President and Co-founder  of Sonus Agency, coordinated to have the masks distributed to Centro Binacional para el Desarrollo Indígena Oaxaqueño (CBDIO), Campesinos Sin Fronteras, Community to Community Development (C2C), and Líderes Campesinas, who in turn delivered these masks to farmworkers.
FJ also helped connect Clif Bar & Co. to La Cooperativa Campesina de California, a statewide association of agencies administering farm worker service programs. Clif Bar's donation covered the costs of La Cooperativa's purchase and distribution of 15,000 face masks to farmworkers in southern California.  La Cooperativa is led by Marco Lizarraga, a former farmworker, who is on the Farmworker Justice Board of Directors.
We are grateful to all those who have helped make these donations possible. We owe much to the farmworkers who sustain us and are honored to give back to them.