Farmworker Justice Los Angeles Awards Recognize Social Justice Leaders – Presented by PepsiCo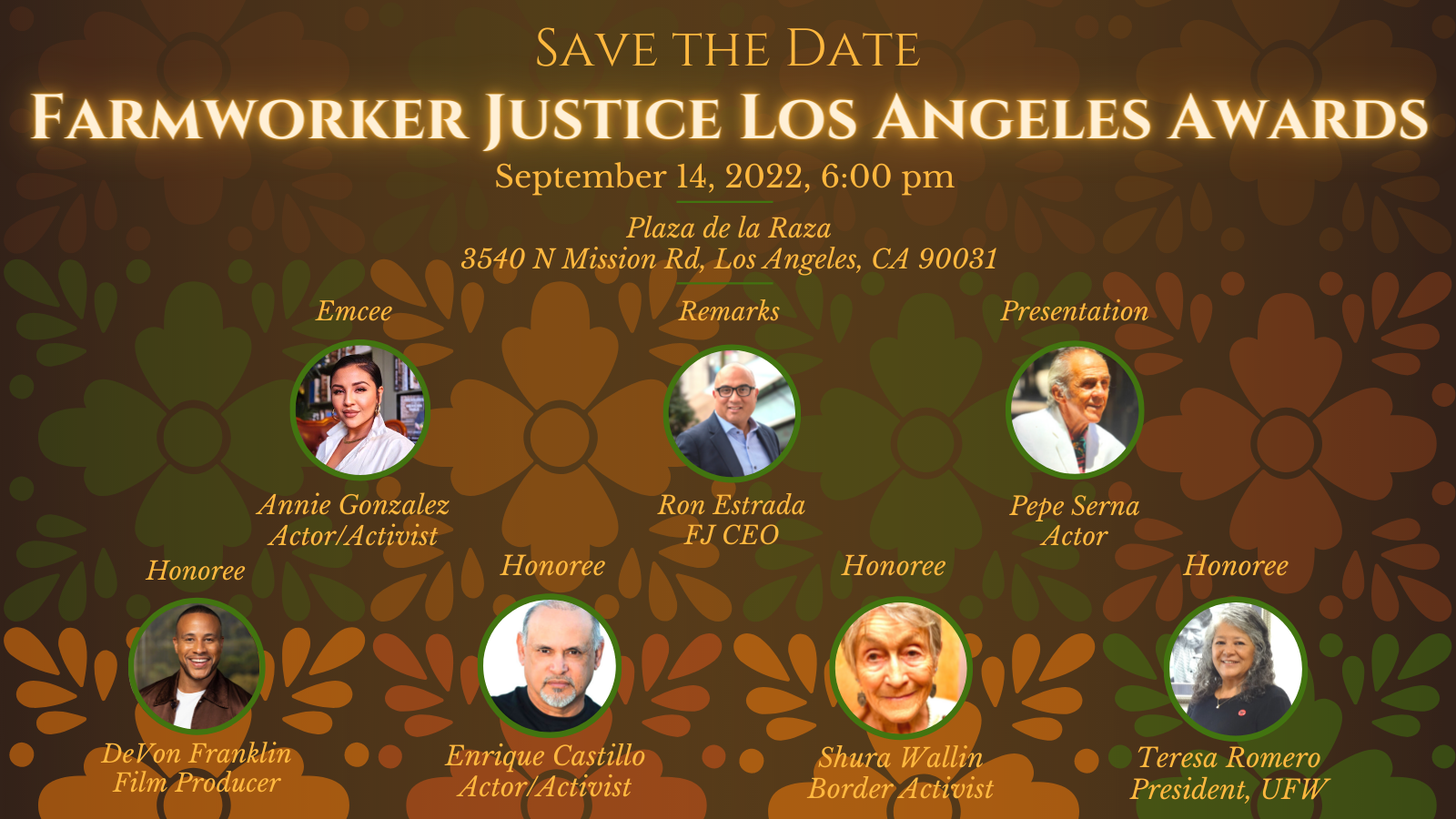 FOR IMMEDIATE RELEASE 
August 22, 2022
Los Angeles, CA – Farmworker Justice will hold its annual Los Angeles Awards recognizing the social justice impact of four nationwide and community leaders on Wednesday, September 14 at 6:00 pm at Plaza de la Raza, 3540 N. Mission Road, Los Angeles, California 90031. Click to buy tickets. NOTE: Proof of COVID vaccination will be required to attend the event.
Farmworker Justice is a nonprofit organization that seeks to empower migrant and seasonal farmworkers to improve their living and working conditions, immigration status, health, occupational safety, and access to justice. Farmworker Justice's Los Angeles Awards provide an opportunity to bring together supporters and contributors from the business, legal, government, and nonprofit communities to report and highlight our important work. They also serve to recognize individuals, businesses and other organizations that have demonstrated leadership, commitment, dedication and sacrifice to address the ongoing plight that farmworkers face each and every day in America. For more information visit the Farmworker Justice website at www.farmworkerjustice.org and follow #FarmworkerJustice.
Farmworker Justice CEO Ron Estrada will provide keynote remarks on the state of farmworkers and proposed solutions to the numerous challenges they face as well as the work of Farmworker Justice and its allies across the nation to fulfill its mission. Actor Annie Gonzalez ("Gentefied") will serve as the event emcee.
"I am delighted to start my tenure at Farmworker Justice by honoring these four individuals who continue to fight for justice for America's farmworkers," says Ron Estrada. "Through their work, they remind us all of the important role that our trabajadores agrícolas play, picking the fruits and vegetables that American families consume every day. Farmworkers are too often invisible to the general public, yet, they are the frontline heroes that feed America. This event is about farmworkers, their families, and all who have worked in the fields so the rest of us can eat."
This year's honorees are: DeVon Franklin, ("Flamin' Hot") award-winning producer, New York Times bestselling author and renowned motivational speaker, recipient of the Social Justice in the Arts Award for his commitment to diversity in film, securing and producing a major motion picture with a majority of Latinos in front and behind the camera. "Flamin' Hot" highlights the life of a child farmworker who made it to the upper echelons of corporate America through innovation and marketing; Teresa Romero, President of United Farm Workers (UFW), recipient of the Dolores Huerta Award for her decades-long activism, dedication and commitment to farmworker rights and living conditions; Shura Wallin, border activist and co-founder of humanitarian group Green Valley-Sahuarita Samaritan, recipient of the Shelley Davis Humanitarian Award, for her unparalleled dedication as a leader in the fight to secure border relief to immigrants in peril and reconnecting families of those who have perished from the harsh conditions crossing the border; and Enrique Castillo, ("Weeds", "Blood In Blood Out") actor, writer, producer, activist, and former child farmworker from Calexico, recipient of the Farmworker Justice Award for his social justice artivism, beginning with his work with El Teatro Campesino, "Zoot Suit," and his play "Veteranos: A Legacy of Valor" on Latinos in the military and his activism work in film.
Iconic Hollywood actor and activist Pepe Serna ("With Love," "Flamin' Hot") will deliver the keynote presentation.
This year's Presenting Sponsor is PepsiCo.
###
Media Contact: 
BA Snyder
Veritas Group for Farmworker Justice
512.630.6337
Gabriel Reyes
Media & Celebrity Engagement
213-399-8208