Farmworker and Pesticide Protections Saved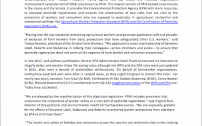 For Immediate Release— March 8, 2018
Contact:
Andrea Delgado, Healthy Communities Legislative director, 202-230-6592
Virginia Ruiz, Farmworker Justice, 202-800-2520
Leydy Rangel, United Farm Workers, 760-899-4604
Farmworker and pesticide protections saved
Farmworker and environmental health advocates praise Senate for preserving pesticide rules
WASHINGTON, D.C.—Today, President Trump signed into law S.483, the Pesticide Registration Improvement Extension Act of 2018, also known as PRIA. This newest version of PRIA passed unanimously in the House and the Senate. It provides the Environmental Protection Agency (EPA) with more resources to evaluate pesticide registrations and ensures the preservation of two rules that are vital to the protection of workers and consumers who are exposed to pesticides in agricultural, residential and commercial settings: the Agricultural Worker Protection Standard (WPS) and the Certification of Pesticide Applicators (CPA) rule.
"Placing into the law standards protecting agricultural workers and pesticide applicators will end decades of exclusion of farm workers from basic protections that have safeguarded other U.S. workers," said Teresa Romero, president of the United Farm Workers. "We applaud the vision and leadership of Senators Udall, Roberts and Stabenow in rallying their colleagues—across chambers and aisles— to ensure that pesticide registration does not come at the expense of farm worker and consumer protections."
In late 2017, and without justification, former EPA Administrator Scott Pruitt announced his intention to illegally delay, and weaken these life-saving rules, although the WPS and the CPA rules were just updated in 2015, after over a decade of stakeholder deliberations. On behalf of farmworker organizations, Earthjustice sued and won soon after in related cases, as they urged Congress to protect the rules. For nearly two years, senators Tom Udall (D-NM), Pat Roberts (R-KS), Debbie Stabenow (D-MI), Corey Booker (D-NJ), Richard Blumenthal (D-CT) and Kamala Harris (D-CA) sought preservation of the WPS and CPA rule. Today they succeeded.
"We are pleased by the reauthorization of this bipartisan legislation. PRIA includes provisions that underscore the importance of worker safety as a vital part of pesticide registration," said Virginia Ruiz, Director of Occupational and Environmental Health for Farmworker Justice. "We are especially grateful for the efforts of Senators Udall, Stabenow and Roberts to preserve worker protections from attempts by EPA to eliminate them."
"The health and safety of families and consumers across the country are inherently tied to the training and protections provided to over three million workers, including 500,000 children, who are regularly exposed to pesticides. This bipartisan and unanimously supported legislation is a significant step to prevent pesticide misuse, injury, illness, and death," said Andrea Delgado, legislative director of Earthjustice's Healthy Communities program.
The WPS establishes a minimum age of 18 for workers who mix, load, and apply pesticides; increases the frequency, and expands the content of worker safety training; and ensures farmworkers have a right to request pesticide-application information via a designated representative, like workers exposed to chemicals in other industries. The CPA rule sets training and certification requirements for Restricted Use Pesticides (RUPs), the most toxic chemicals in the market. The WPS and CPA are particularly important for underage farmworkers. There are roughly half-a-million child farmworkers in the United States.
By law, and consistent with the commitment of EPA Administrator Wheeler to the Senate, EPA will not revise the WPS and CPA rules before October 1, 2021. Before then, it may revise the WPS provision on the application exclusion zone. Furthermore, the Government Accountability Office is required to conduct a study on the use of a designated representative, and how sharing pesticide information with employees via a designated person affects workers' health and safety.
________________________________________________
Earthjustice is the premier nonprofit environmental law organization. We wield the power of law and the strength of partnership to protect people's health, to preserve magnificent places and wildlife, to advance clean energy, and to combat climate change. We are here because the earth needs a good lawyer