Updates from Farmworker Justice CEO, Ron Estrada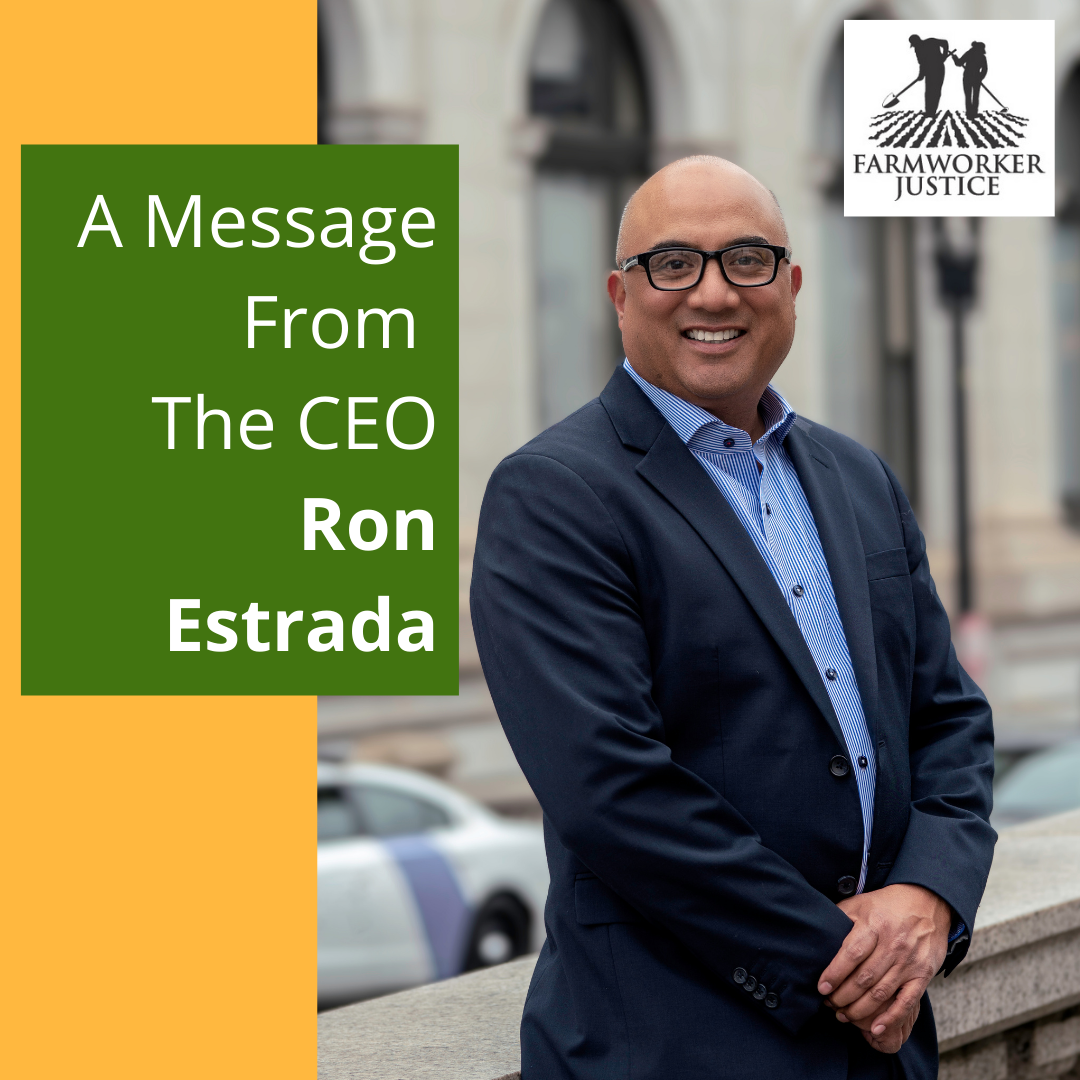 Dear FJ Friends and Supporters,
I trust this message finds you and your families safe and healthy. The FJ team continues to work tirelessly to advance our
mission of improving the living and working conditions of farmworkers. We are engaging lawmakers, the media, and voters to understand the injustices faced every day by the men and women who are responsible for bringing food to our tables. As fewer than 100 days remain until midterm elections, now is the time to educate our communities about the plight of farmworkers and mobilize to vote. Your participation and support shows lawmakers that farmworkers are not the forgotten, unseen laborers in this country, but instead that it is long past due that they are guaranteed the same rights as all other workers. 
ADVOCACY
On July 20, the House Committee on Education & Labor Subcommittee on Workforce Protections heard testimony on the rampant violations of temporary agricultural workers' rights in a hearing on "Second Class Workers: Assessing H2 Visa Programs Impact on Workers." This hearing shined a light on the serious issues in the H-2A program and the potential for worker abuse within these systems that tie workers to a single employer. We thank the committee for holding this hearing and will continue to push for further reform within the H2 programs. Our statement for the Congressional record is available to read here.
Farmworker Justice applauds the House Education and Labor Committee for advancing the Asuncion Valdivia Heat Illness and Fatality Prevention Act. For more information about the bill, read our fact sheet here. Asuncion Valdivia, for whom the Act was named, was a farmworker who died after picking grapes for 10 hours in over 100 degree heat in California. His tragic death highlights the need both for workplace heat protections as well as access to health care, as he was not taken to a hospital right away despite displaying severe symptoms of heat illness. The Act now awaits consideration by the full House of Representatives. Farmworker Justice has advocated for federal workplace heat standards for decades and this bill will continue to be a top priority. 
Farmworker Justice has supported the Farm Workforce Modernization Act since its inception. However, the bill—already passed by a bipartisan majority in the House—has hit a snag in the Senate as a few agribusiness groups argue against a provision that would provide H-2A workers with the legal rights available to domestic farmworkers under the Migrant and Seasonal Agricultural Workers Protection Act (MSPA or AWPA). Despite the fact that this act would help lower food cost inflation and stabilize the farm workforce, therefore benefitting all Americans, these rights are being denied to H-2A workers who are consistently among the most exploited workers in this country. As Andrew Walchuk, Senior Policy Counsel and Director of Government Relations, told Politico, "MSPA protections are the bare minimum, and farmworkers — deemed essential by the previous administration — deserve to have equal rights under the law regardless of their visa status." said Andrew Walchuk, Senior Policy Counsel and Director of Government Relations. 
This month, more horrifying details came to light in the Blooming Onion human trafficking investigation out of Georgia. A USA TODAY article revealed that state officials allegedly took bribes from employers in the human trafficking ring to look the other way as hundreds of H-2A workers were forced into horrible living and working conditions. The article quotes Andrew, who notes, "It's really horrifying to imagine that state officials who are responsible to look out for those workers' health, responsible to make sure that the law is complied with, would instead take money, allegedly, from the employers who allow these workers to suffer abuse."
LITIGATION & WORKER SUPPORT
FJ sent a letter to the CEO of Ostrom Mushroom Farms in support of workers there, who have allied with the UFW in an organizing campaign to address several concerns regarding their wages and working conditions. The company has refused to negotiate with the worker organizing committee. We sent this letter to place pressure on the company to negotiate and to cease and desist from its intimidation tactics. We state in the letter, "​​We believe it is the moral imperative of Ostrom Mushroom Farms to ensure that its employees are working in safe and just conditions, and are treated with the inherent dignity and respect they deserve."
In addition to conducting policy advocacy on behalf of farmworkers, Farmworker Justice maintains an active litigation docket and continues to provide legal consultation and litigation support to farmworker advocacy organizations. Our legal team is able to provide specialized expertise in the areas of wage and hour law, administrative law, and the Agricultural Worker Protection Act. If your organization is in need of litigation support or consultation, please reach out to Trent Taylor at ttaylor@farmworkerjustice.org or call us at 202.293.5420.
HEALTH
Alexis Guild, FJ's Director of Health Policy and Programs, participated in a webinar hosted by the National Academies of Sciences, Engineering, and Medicine on their proposed framework for meeting the respiratory protections needs of workers. Alexis was part of a moderated discussion with labor representatives and advocates that was facilitated by FJ Board of Directors member Dr. Rosemary K. Sokas, MD, MOH. 
"There's a lack of data and research on farmworkers specifically, and there's not a lot of data on respiratory fit, and the use of respiratory masks among farmworkers, despite the fact that farmworkers have been impacted by wildfires. So I think including research that really focuses on what those barriers are, and how we can adapt and create recommendations that are able to supersede those barriers are important to ensure that farmworkers are able to protect themselves," Alexis said. 
Looking Ahead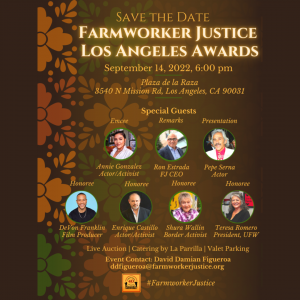 Join us for our Farmworker Justice Los Angeles Awards on September 14, 2022 at Plaza de la Raza to kick off Hispanic Heritage Month. Farmworker Justice's events provide an opportunity to bring together supporters and contributors from the business, legal, government, and nonprofit communities to report and highlight our important work. They also serve to recognize individuals, businesses and other organizations that have demonstrated leadership, commitment, dedication and sacrifice to address the ongoing plight that farmworkers face each and every day in America. Annie Gonzalez of Netflix's Gentefied and upcoming film Flamin' Hot will emcee. 
This year's honorees are DeVon Franklin, award winning producer, New York Times bestselling author, and motivational speaker, receiving the Social Justice in the Arts award; Shura Wallin, border advocate, the Shelley Davis Humanitarian Award; Enrique Castillo, actor, writer, director, and producer, ​​the Farmworker Justice Award; and Teresa Romero, President of UFW, the Dolores Huerta award.
To learn more about sponsorship opportunities and for more information about the event, visit our website. Lastly, please be sure to follow us on social media for daily updates on our work and if you have not contributed to FJ recently, please make a gift now and help us continue our efforts to secure fundamental human and civil rights for over two million farmworkers who harvest the fruits and vegetables you rely on every day.
Sincerely,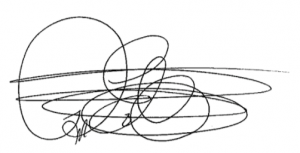 Ron Estrada
Chief Executive Officer
Farmworker Justice       
"Life as a farmworker should not be a poverty sentence, but instead a path to the middle-class and a source of opportunity for their families."