Update from Farmworker Justice CEO, Ron Estrada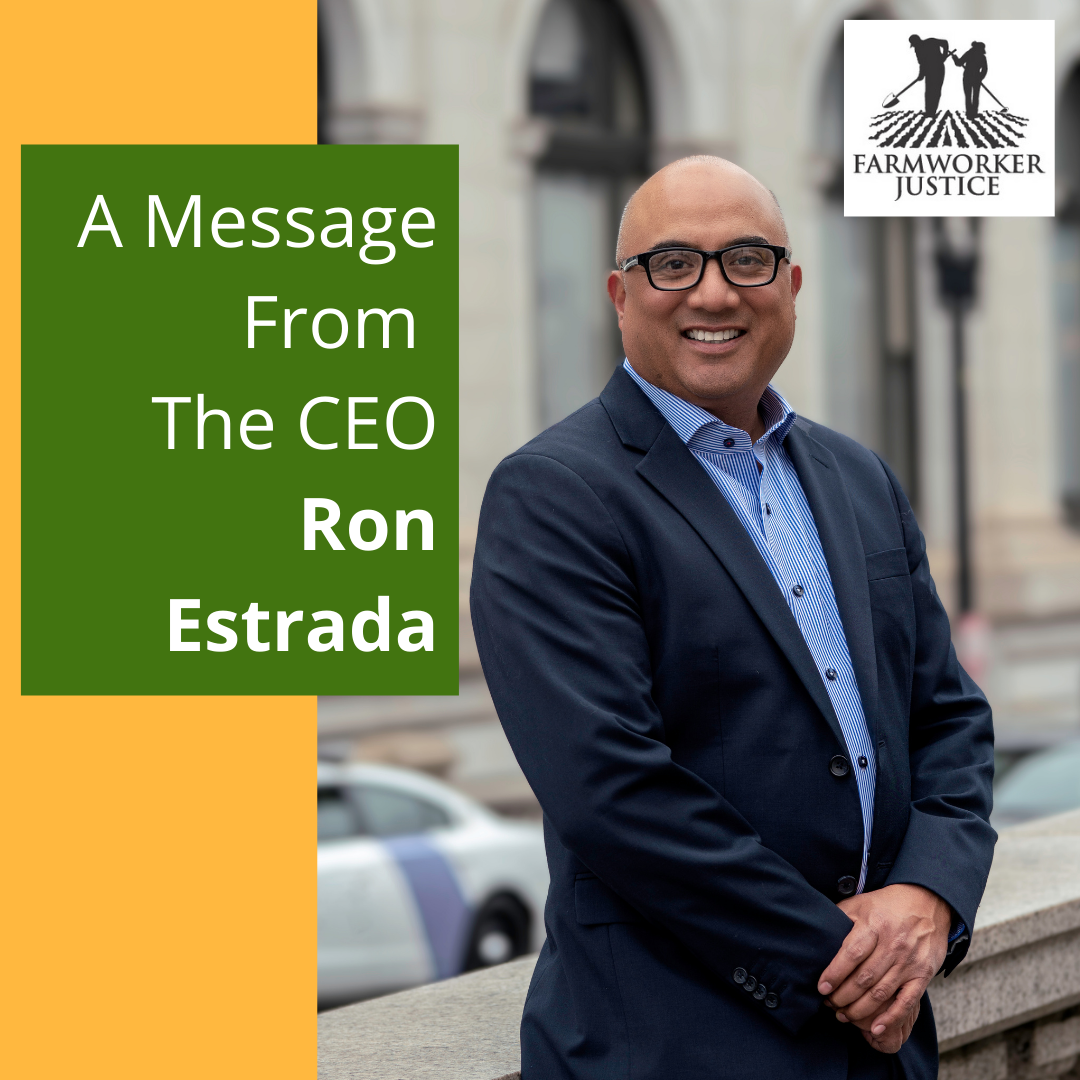 Dear FJ Friends and Supporters,
I want to keep you abreast of all the good work Farmworker Justice has accomplished these past few weeks and key events on the horizon as we enter the Easter holiday weekend and spring season. Today marks my one-month anniversary – and although my listening tour will continue in the months to come with trips to California and Texas, there have been observations and opportunities I feel the need to share, for it is in collaboration we are able to build true impact and movement. But first, let me remind us who and what we are fighting for:
At least 22% of farmworker families earn incomes placing them below the poverty line.

Annual income for farmworker families is roughly $25,000- $29,499.

An estimated 40% of all US Farmworkers lack health insurance.

Nearly 40% of U.S. farmworkers lack legal immigration status, and hundreds of thousands more are working on exploitative H-2A temporary visas.
I am blessed to be supported by the hardworking and dedicated Farmworker Justice team. The FJ squad of subject matter experts cover issues ranging from farmworker advocacy, policy analysis, litigation, coalition building, organizing, to public education. This is all to achieve fundamental change to strengthen farmworkers' rights, status, and well-being. Below are just a few recent highlights of these efforts:
FJ in the News:
Federal Court Rules Against Attempted Freeze of Farmworker Wages
The Trump Administration shamefully sought to freeze the wages of farmworkers at the same time that it designated them as essential. Farmworker Justice sued to stop them, and as a result of our victories in this lawsuit, farmworkers working for H-2A employers will receive more than $500 million in increased wages during 2021 and 2022. AS I take the reins of leadership for FJ, we will continue to advocate with the Biden Administration for a new AEWR rule that guarantees fair, market-rate wages for domestic and H-2A farmworkers.  
Short-Handed Farm Groups See Path to Bipartisan Immigration Deal
Immigration measures involving workforce issues have tended to attract more bipartisan support. The House has twice passed the Farm Workforce Modernization Act (H.R. 1603) spearheaded by Reps. Zoe Lofgren (D-Calif.) and Dan Newhouse (R-Wash.). The measure would allow undocumented laborers to apply for temporary status as certified agricultural workers and later seek green cards and citizenship. "If we want to address any potential issues with not having enough agricultural workers, the obvious first step is to provide status to those hundreds of thousands of workers who are already here," Farmworker Justice staff attorney Andrew Walchuk said.
Labor coalition sues Polis administration over agricultural overtime pay rules
Farmworker Justice, along with co-counsel Towards Justice, is representing Colorado Jobs with Justice, a coalition of labor and community organizations, in a suit challenging Colorado's new overtime pay rules for agriculture.  "The delayed timeline for agricultural overtime rules to kick in — and the continued disparities between agricultural workers and other types of employees, who get overtime pay after 40 hours — represent 'a monumental disappointment for workers who have long been excluded from overtime and other basic labor rights enjoyed by other workers in the state,' Pamela Resendiz Trujano, the executive director of Colorado Jobs with Justice, said in a statement."
Farm Workers Win a Victory Against Exploitation in the Tulip Fields – Progressive.org
"For far too long, this country has taken the essential work performed by farmworkers for granted," Andrew Walchuk, staff attorney for the national nonprofit organization Farmworker Justice, tells The Progressive in an email. "The agricultural industry's shameful legacy of slavery and racism still affects workers today. Farmworkers are among the lowest paid workers in the country and face exclusion from many basic federal workplace protections, such as overtime pay and the right to organize."
Upcoming Events:
The East Coast Migrant Stream Forum – Hosted by the North Carolina Community Health Center Association, the forum convenes health professionals, researchers, advocates, and students from 20+ states and Puerto Rico for five days of professional development and networking opportunities. The conference is organized into five major disciplines – clinical, outreach/lay health/community health workers, policy, programmatic/administrative, and research – and focuses on increasing access to care and reducing health disparities among migrant and seasonal agricultural workers.
Environmental Justice Symposium – Join us May 17-18 from 1-4 pm ET to discuss how farmworkers are affected by climate change during Farmworker Justice's free, virtual Environmental Justice Symposium. Topics will include heat stress, pesticides, and more! 
California Community Visit – From May 22-26, I will be visiting the Southern California area, continuing to build connections with some of our established allies and supporters. I look forward to meeting some of you in person and discussing ways we can continue to partner in the future to further our impact in bringing justice to farmworkers. 
Moving Forward:
I would like to take this opportunity to personally thank all of our partners that continue to play a vital role in our success. As I look ahead into the future of Farmworker Justice, I remain excited by the passion and steadfast approach the team brings to each program and project. I am also comforted by the engagement from our many supporters, including those of you reading this message. Together we are stronger and we can provide much-needed impact for our brothers and sisters laboring in the fields, ranches, and farms each and every day. I ask that you continue to walk alongside us in support of farmworkers such as Lorena, Isabel, and Jose Luis.  
Your support helps us move forward, show your support today!
Sincerely,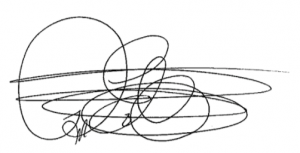 Ron Estrada
Chief Executive Officer
Farmworker Justice
restrada@farmworkerjustice.org