About the 2020 Farmworker Justice National Awards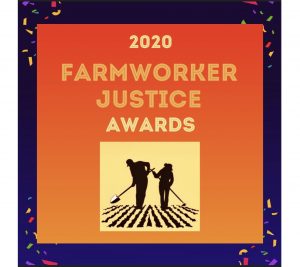 Awards series presented by The California Community Foundation, AARP, Good Farms, The United Nurses Associations of California/United Health Care Professionals.
Throughout Hispanic/Latino Heritage Month, we will be honoring this year's awardees through a series of 30-minute presentations released on the Farmworker Justice website and all our social media channels.  See below for a complete list of awards recipients and links to the videos as they become available.
Presentations by Eva Longoria, Dolores Huerta, Nicholas Gonzalez of ABC's "The Good Doctor", actor Pepe Serna, and Teresa Romero, President of United Farm Workers (UFW). Farmworker Justice President Bruce Goldstein hosts.
Honorees
The Social Justice Volunteer Award
Ellen Gavin; Writer, Producer, and Activist
Presenter: Teresa Romero; President, United Farm Workers
Date: Tuesday, September 15, 2020
The Shelley Davis Memorial Award
Brooke Oliver; Civil Rights Attorney
Presenter: Dolores Huerta; President, Dolores Huerta Foundation
Date: Tuesday, September 22, 2020
The Social Justice in the Arts Award
George Rodriguez; Photographer
Presenter: Nicholas Gonzalez; Actor/Humanitarian
Date: Tuesday, September 29, 2020
The Shelley Davis Memorial Award
Antonia Hernandez; President & CEO, California Community Foundation
Presenter: Eva Longoria Baston; Actress, Producer, Director, Activist
Date: Tuesday, October 6, 2020
The Social Justice Media Award
Maria Elena Salinas; Broadcast Journalist / CBS News Contributor
Presenter: Dolores Huerta; President, Dolores Huerta Foundation
Date: Tuesday, October 6, 2020
The Dolores Huerta Award
Linda Ronstadt; Recording Artist & Civil Rights Advocate
Presenter: Dolores Huerta; President, Dolores Huerta Foundation
Date: Tuesday, October 6, 2020
Farmworker Justice Award
Steven Hernandez; Mayor, City of Coachella, California
Presenter: Pepe Serna; Actor, Activist
Date: Tuesday, October 13, 2020
Support Farmworker Justice