Details below on how to receive your own FJ Face Mask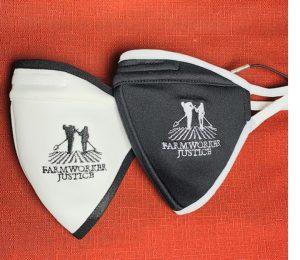 $50 = 1 mask (Black or White)
$100 = 1 pair of Black and White masks
$200 = 2 pairs of Black and White masks
$500 = 6 pairs of Black and White masks
Donating by check: Please specify "face mask" on the memo line of your check. If making a $50 donation, indicate preferred mask color (black or white.) Please make your check payable to Farmworker Justice and mail it to: Farmworker Justice, 1126 16th St NW, Suite LL-101, Washington, DC, 20036.
Farmworker Justice is a 501(c)(3) nonprofit organization; donations to Farmworker Justice are tax-deductible to the full extent permitted by law.
The FJ face mask
The Farmworker Justice face mask was designed and produced by Louis Verdad.  Louis Verdad is a Los Angeles-based fashion designer with a strong commitment to social justice.  He has been called a "visionary." His diverse designs for women include everyday clothing to haute couture for world-famous celebrities. He donated his talents to this project to advance the mission of Farmworker Justice.
Your donation for the Farmworker Justice Face Mask advances the mission of this vital national advocacy organization for the nation's farmworkers and their families.
When you wear the mask to protect yourself and others from COVID-19, you also make statement:  you support the quest for justice for farmworkers, the people who labor on farms to produce our food.
Louis Verdad designed the mask to be durable, adjustable, comfortable, and washable.   It is completely lined and adorned with the official Louis Verdad designer label, restrain chain, adjustable cord lock, and the quality embroidered Farmworker Justice logo.  It is made in the USA.
Note that this face mask is not intended for use in a medical setting. These masks are not toys. Use under adult supervision. They are not intended for children under two years of age or anyone with difficulty breathing.
We appreciate your donation to Farmworker Justice and look forward to providing you with this face mask.  We will not be able to accept any returns.
#Farmworkers #covid19  #LouisVerdad #socialjustice #Mask #fashiondesigner